In Response to COVID-19:
Please refer to this page for ongoing updates and resources from STEM Prep Schools.
Important Dates:
Spring Break – Week of March 29th – April 2nd
Last Day of School – June 11, 2021
Meal Service
Meals will be made available each Tuesday for all students at STEM Prep. Meals will be served packaged and ready to enjoy off site. You will receive 5 days worth of meals.
Our Grab & Go Meal center at STEM Prep Elementary will now be serving meals only on Tuesdays. Families will be given 5 days worth of meals each Tuesday.
Days: Tuesdays
Location: STEM Prep Elementary School
Address: 1374 W 35th St., Los Angeles, CA 90007
Times: 8:00 – 12:00 am
For more information about meal service you may call: 323-998-095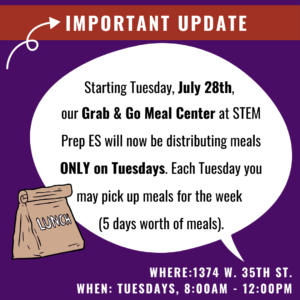 Childcare Resources
Essential workers are those critical to maintain the health and well-being of all Californians. If you are in need of childcare call 1 (888) 92-CHILD [1-888-922-4453] or search for your local Resource and Referral agency here. Additionally, you can search for a daycare center near you at weecare.
Chromebooks
For information on how to get started with your chromebooks and log on to Google Classroom read our Chromebook Quick Start Guide.
If you have already borrowed a laptop and need support, you may call your school's front office or email: support@stem-prep.org
Update: Computer Distribution
All Laptop distribution dates have passed. If you are still in need of a laptop, call your school's front office to  set up an appointment 1 day in advance.
You may also complete this survey and we will be in contact with you concerning your tech needs.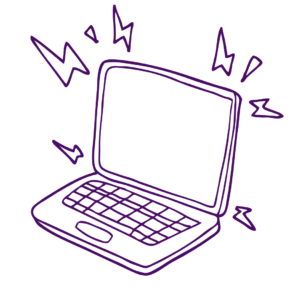 Need Internet at Home?
Please let us know if you do not have access to internet at your home by completing this survey.
If you do not currently have internet access at home, several internet providers are offering free wifi access for 60 days
Charter  will offer free Spectrum broadband and Wi-Fi access for 60 days to households with K-12 and/or college students who do not already have a Spectrum broadband subscription and at any service level up to 100 Mbps. To enroll call 1-844-488-8395.
Comcast is offering a similar package. New Internet Essentials customers will receive two free months of Internet service, which is available to all qualified low-income households. To enroll you can apply at: apply.internetessentials.com or call: 1-855-846-8376 for English and 1-855-765-6995 for Spanish.
If you need help to choose the best offer for you: Call 844-841-4636 – Toll free number of the Digital Access Project, a community-based organization with expertise in low-cost Internet.
Additional Information
For additional guidelines and answers to frequently asked questions please access the following resources: