2018 MSCP Graduation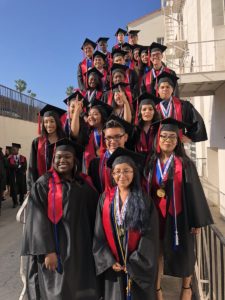 LOS ANGELES (KABC) — The lives of 82 young people changed forever on Wednesday night when they graduated from Math and Science College Preparatory High School in Los Angeles. Nearly the entire senior class is now headed to college, many students the first in their families to do so.
"We came to this country because we wanted to start a legacy here and this is the land of opportunity," graduate Estefani Zuniga said following the ceremony at the Wilshire Ebell Theater.
Zuniga will be attending the University of California, Santa Barbara this fall, something she calls "one of the biggest blessings."
More than half of the graduating class has pre-declared a STEM college major, which is something in science, technology, engineering or math.
"In this community that we serve, 100 percent of the students are black and brown, 94, 95 percent are living below the poverty line," STEM Preparatory Schools CEO Emilio Pack said. "So to see this first generation for many of them to go off to college and majoring in STEM and hopefully becoming a STEM professional within four years, it's really transformative."
"We're very proud."